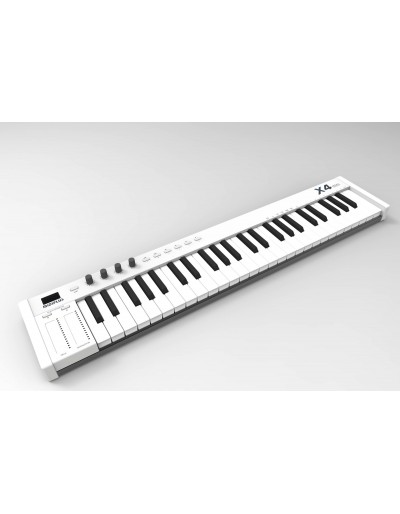  
MiDiPLUS X4 mini 49 Keys Portable MIDI Keyboard Controller
Product Highlights
·         Model:  X4 mini
·         49 velocity sensitive keys.
·         Display:  3 segment backlit LED display
·         Hot plug supported. No driver is needed.
·         Powered by USB, no external power supply is needed.
·         Capacitive touch sensors to control PITCH and MODULATION.
·         Other buttons:  SHIFT (for customized functions) and OCTAVE/TRANSPOSE.
·         4 customizable knobs; Default setting: T1 (Volume), T2 (Pan), T3 (Expression Controller), T4 (Reverb).
·         Polyphony:  64 maximum
·         I/O:  1 x USB, 1 x MIDI OUT, 1 x Sustain In
Product description
Style:X4 Mini
The X4 mini MIDI keyboard has a lot of features and is easy to use. With USB connection, you can enjoy making music whenever you want to.  The MIDIPLUS X4 mini MIDI keyboards has 49 velocity sensitive keys.  It is hot plug supported, so no driver is needed.  It is powered by USB, so no external power supply is required.
What's in the box:
1 x X4 mini MIDI Keyboard Controller
1 x USB Cable
1 x User Manual
Size:  703 x 137 x 51 (mm)
Weight: 2.5 Kilograms
SKU: MPLUSX4MIN49
#midikeyboards #midikeyboard #portablemidikeyboards #lightweightkeyboard #lightweightmidikeyboards #midicontroller #midiplus #xminiseries
No customer reviews for the moment.