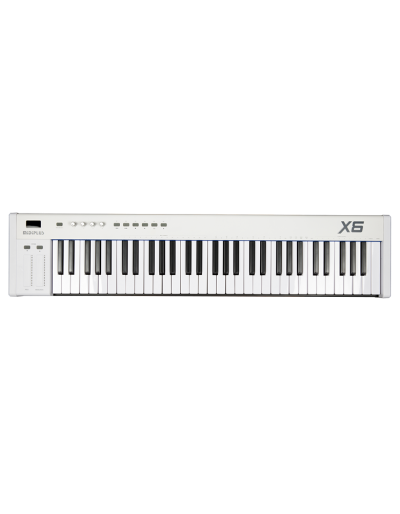  
MiDiPLUS X6 II 61 Key MIDI keyboard
The new 61 Key MIDI keyboard controller from MiDiPLUS
Introducing, the X6 II – the new 61 Key MIDI keyboard controller from MiDiPLUS.   The X6 II has numerous functions and is very easy to operate.  You can enjoy making music whenever you want to with the new, improved X6 II.
A stylish keyboard with black and white color combination, the XII features 61 full-sized semi-weighted keys, 4 editable knob controllers, 6 editable button controllers, and new capacitive touch sensors with LED strip light to control PITCH and MODULATION.  It is ideal for arrangers, creators, and yes – even live performers if you connect it to a sound module!
New modern design
Aesthetics was carefully considered in designing the new X6 II, with a much appealing shade of white and a MiDiPLUS logo on the sides.
New assignable knobs with the modern look
The X6 II features 4 independent potentiometer knobs which are 270⁰ rotatable with backlight and with user-defined CC functions.  Default functions are;
T1:  Volume
T2:  Pan
T3:  Expression Controller
T4:  Reverb
The new Capacitive Touch Bar – a unique touch experience!
The traditional pitch/modulation stick was replaced by a new and unique capacitive touch bar.  This and the strip LED level indicator to bring you a new pitch and modulation control experience, both touch and vision wise.
Interface and Connections
The X6 II has a MIDI Out, Sustain Pedal jack, and a USB Port for data transmission and power, giving you all the connection options that you need from a MIDI keyboard controller.
Compatibility
The X6 II is compatible with hundreds of applications and operating systems adhering to the MIDI connection standard, so enjoy using it with your DAW, iOS device, and even in Android device running MIDI compatible software and apps such as Cubase, FL Studio, and Garage Band.
Product Highlights
61 full-sized semi-weighted velocity keys
Plug and play, USB powered.  No external power supply needed.
Touch-sensitive control technology for PITCH and MODULATION, providing you with a new control experience.
Modern design with MiDiPLUS logos on the sides
4 editable knob controllers (T1 – T4) for setting CC functions.
6 assignable button controllers (B1 – B6) for setting CC functions or MMC transport functions.
Connections:  USB (for power and data transmission), sustain pedal, and a MIDI Out. 
Technical Specifications
Product Name:  X6 II
61 full-sized semi-weighted velocity-sensitive keys.
LED Display
Pitch and vibrato wheel with LED pilot strip
Buttons:  MIDI/SELECT, OCTAVE group, 6 Assignable Buttons with transmission function (B1 – B6)
 4 editable knob controllers with (T1 – T4)
Sockets:  USB connector, MIDI OUT connector, and SUSTAIN PEDAL connector
USB plug and play, no need for extra driver and external power.
Size: 978(L)*215(W)*74mm(H). 
Weight: 4.6 kg
No customer reviews for the moment.