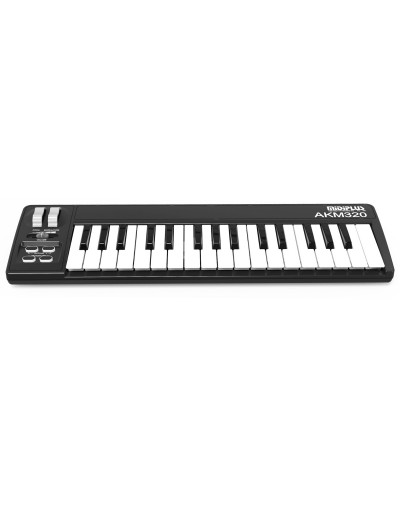  
MIDIPLUS AKM320 32 Keys Mini Size MIDI Keyboard Controller - Black
◆32-note velocity sensitive mid-size key keyboard.
◆Octave Buttons(Up & Down). Transpose Buttons (Up & Down).
◆Pitch Wheel. Modulation Wheel.
◆Sustain Switch interface (sustain pedal does not include). USB B type: USB connect to Computer
◆Dimensions: 46 x 12.5 x 3(cm)
◆Weight: 0.72(kg)
Features
-Model: AKM320
-Keyboard: 32 keys / velocity sensitive / mini keys
-Pitch and Modulation wheels
-Octave Buttons (Up & Down)
-Transpose Buttons (Up & Down)
-Volume Slider
-Sustain pedal input (sustain pedal not included)
-USB interface
-Power supply: USB
-In the Box: USB cable, Operating Instructions
Dimension: 460 x 125 x 30 (mm).
-Weight: 0.72 kg
Package Length:  52 cm
Package Width:  16 cm
Package Height:  7.5 cm
The MiDiPLUS AKM320 is a MIDI Keyboard Controller with 32 velocity sensitive mini keys.  Its has all the basic functions of a MIDI controller, with modes of operation that are very intuitive and easy to understand.  Elegantly designed, the AKM 320 is very light and slim so it does not occupy too much space.   It is extremely portable so you can easily take it with you wherever you go – onstage for live performance, or to the studio for music creation.
#portablemidicontroller #midikeyboardcontroller #lightweightmidikeyboards #USBmidikeyboardcontroller #minisizekeysmidikeyboards #portablemidikeyboards
Seller SKU: MPAKM320B
https://www.youtube.com/watch?v=uiOJTOmndTo
No customer reviews for the moment.