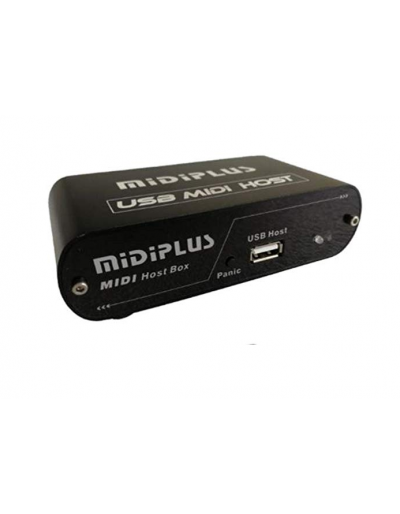  
Product Description
USB MIDI HOST – it's small, exquisite, powerful, and easy to operate.  Its compact design won't cost you any space in your working desk or bag.  You can easily carry it with you – simply put it in your pocket!  It can work with all MIDI devices with USB output function.  With the MiDiPLUS USB MIDI Host, you can already connect your MIDI equipment and start your musical journey.
The MiDiPLUS USB MIDI Host lets your USB MIDI keyboard to have a MIDI IN/OUT when you do not need to connect it to a computer, allowing MIDI connections to other MIDI keyboards and devices with a standard 5 din MIDI ports.  The USB MIDI HOST device's USB port (USB Host) provides a standard USB 5V 500mA current output.
Features
● It has a USB HOST unique design, allowing you to discard tedious MIDI cable to connect directly using a USB cable to the USB MIDI HOST connection with your MIDI devices , MIDI data transfer is complete.
● Either MIDI or USB connection can be established with no delay.
● Supports all MIDI devices MIDI OUT.
● Support USB HOST MIDI IN and simultaneously, a bomb piano accompaniment, and a piano playing the melody, allowing you to form a small band wherever you are.
●USB MIDI HOST is not only small, but is powerful and easy to operate.
● The USB MIDI HOST device's USB port (USB HOST) provides a standard USB 5V 500mA current output.
● Power supply: Power up your device where ever you are – with the Mini-USB power supply port, you can pick up your phone's 5V charger and power up the device!  You can even power it up using the supplied mini-USB cable by connecting it to your computer's USB port – it's that simple!
● Interface:  MIDI input interface, MIDI output interface, USB HOST Interface (USB peripherals), Mini-USB charging / power connector.
What's in the Box:
Your USB MIDI HOST package contains the following:
● The USB MIDI HOST
● Owner's manual
● Mini-USB cable
Package Dimensions:
Length:            16cm
Width:              12.5cm
Height:             6.5 cm
Weight:            0.15kg
SKU:   MPLUSMHOST
No customer reviews for the moment.