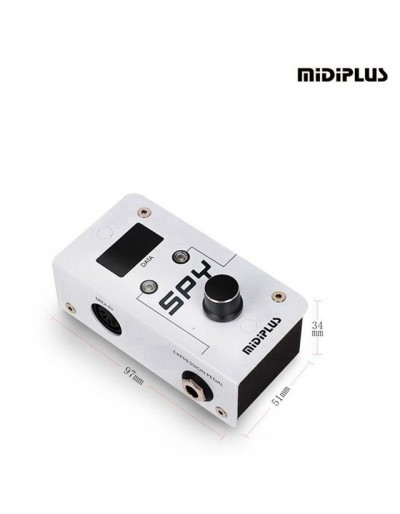  
MiDiPLUS SPY MIDI Pedal Controller
Product Highlights
·         SPY pedal controllers USB interface can turn the expression pedal and switch pedal into USB signal.
·         The expression pedal interface is compatible with most expression pedals and supports pedal calibration. 
·         Switch pedal interface can be connected to 2 switch pedals to use up and down to change sound.
·         The MIDI output & input interface are compatible with all MIDI devices.
·         The expression pedal can define the assigned CC value.
·         Features expression pedal input, switch pedal input, MIDI output/ input, USB interface, and 9V power connector. Also sports a rotary encoder with PRESS function and 3 bit 7-segment LED display screen.
·         Product design:  Metal shell, with anti-skid pads at the bottom.
·         Product size: 9.7 x 3.4 x 5.1 cm
·         Product weight: 0.25 kg
What's in the box:
1 unit MiDiPLUS SPY Pedal Controller
1 x USB Cable
1 x 100-2400V Power Adapter
1 x Instruction Manual
Package Dimensions:
Length: 14 cm
Width:   12.5
Height:   6.5 cm
SKU:  MPLUSPDLSPY
No customer reviews for the moment.