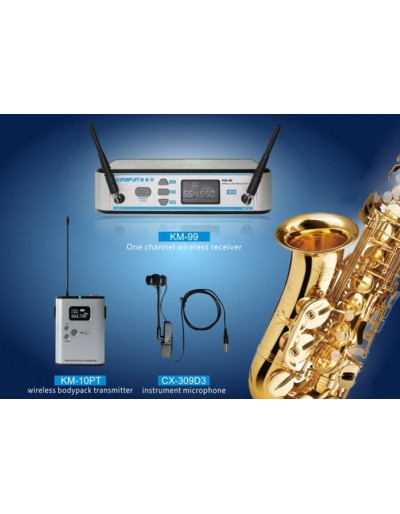  
Kimafun Wireless Mic System for Saxophone
Stage ready wireless saxophone mic system with a one channel wireless receiver, wireless bodypack transmitter, and saxophone microphone.
This product is ideal for saxophone, wood, eastern and western strings, and percussion because of its high SPL capability and flat response. The CX309 is easy to mount onto various instruments and simple to adjust - just bend the short gooseneck for the sweet spot! A great choice for mid-high frequency range instrument sound pick-up, and very reliable for on-stage performances.
Delicate surface design make enables you to confidently perform at your best. It's natural, clear, and robust timbre can compare with large handheld dynamic microphones, and is perfect for professional musicians.
Features:
This Musical Instrument Microphone suited for professional performance on stage.
Natural, clear, and powerful tone pick-up can equal the pick-up capabilities of handheld moving-coil microphones for professional musicians.
Clip and microphone shells connected by soft rubber. Anti-vibration design, anti-mechanical noise.
Gooseneck hose microphone arm can be adjusted to the desired orientation.
One set ready-to-use wireless microphone mic system for Saxophone. Just plug it in, and "blow away!"
Combines the individual qualities and characteristics of fine microphone pieces, like the crystal clear pick-up of CX-309 Saxophone Mic, the reliable transmission of the KM-10PT Wireless Bodypack Transmitter, and the clear reception of the KM-99 One Channel Wireless Receiver.
 CX-309 may be used in a wired setup, and the KM-10PT may be used with other instruments like the violin – just purchase the appropriate microphone and plug it into the KM-10PT!
Connection Type:  mini 3pin XLR
No customer reviews for the moment.