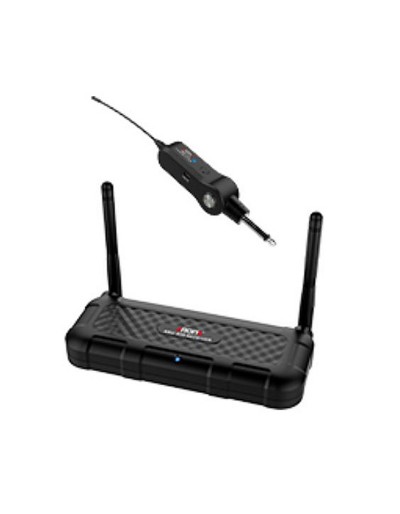  
Aroma ARU-03S DIVERSITY Wireless Audio System
Adopts the new version U segment transmission chip which has a lower power consumption.  The ARU-03S transmitter now features the updated audio connection head design (60 degrees rotatable) and compatible with ANY guitar or bass at an extremely compact size.  Virtually no audio transmission delay, the system features a 2 antenna diversity to ensure best quality signal transmission without any delay.  It automatically matches the code between the transmitter and the receiver so they're ready to use – just turn them on!  It has five built-in channels, and will not interfere with other ARU-03S DIVERSITY systems even when used simultaneously in a gig.  The ARU-03S DIVERSITY Wireless Audio System - the perfect guitar accessory and gig companion!
Product Highlights:
Suitable for and compatible with guitars, basses, and

all instruments

with 6.35mm gauge audio output jack
Transmitter features a 6.35mm mono audio plug with a modern and updated audio connection head design which is 60 degrees rotatable, giving you flexibility for different audio jack position
Receiver adopts the true diversity receiving method to make the signal transmission more stable
Transmitter and Receiver are powered by built-in rechargeable lithium batteries
One button for all control, easy to use
Five built-in channels with 5 different color indicators for each channel
Transmitter and Receiver are matched automatically when powered on – easy and simple to use
Virtually no signal transmission delay
Connection status, charging progress, and lower power alarm are indicated by LED lights
UHF frequency and FM high fidelity coding technology for high quality transmission without compression or distortion
Transmission distance up to 20 meters
Low power consumption
Compact size
No customer reviews for the moment.