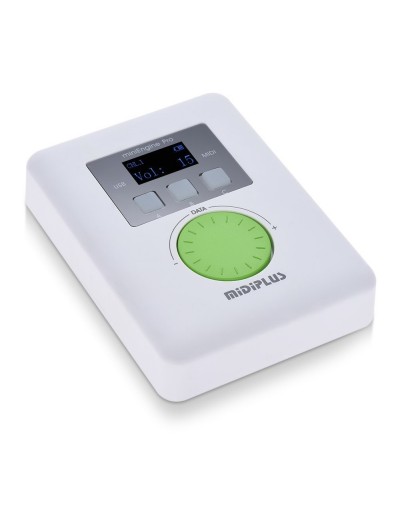  
MIDIPLUS mini Engine Pro

MIDIPLUS miniEngine Pro External USB Stand Alone Sound Module 128 MIDI Sounds 64 Tones with Battery Pack - Intl
MiniEngine Pro is a portable audio source which can power the keyboard.  It looks very cool, small, and exquisite.   It has a built-in 128 of the latest high-quality GM sounds.  Quick effect features include Volume, Tone, Reverb, Panning, and Vibrato (can be adjusted optionally).  The sound module supports USB and MIDI interface to connect to MIDI keyboard simultaneously.  It has a maximum of 64 polyphony output, and supports 24/bit/48KHz high-quality output.  The USB host can provide USB 5V 500mA current output, and it can also function as a mobile phone emergency charger
Product Highlights:
Compact size MIDI sound module with 128 of the newest general MIDI sounds.
Supports up to 64 complex tones and 24bit/48kHz high-quality audio output.
Supports MIDI IN and USB host work simultaneously. One piano plays accompaniment while another plays melody.
Equipped with 3(A, B, C) preset function buttons which could be shifted easily.
With OLED display showing the information of channel/volume/ program/ reverb value/ pan/ mode/ battery power, etc.
Excellent for operating with MIDI devices with zero latency.
DATA rotary knob for controlling the volume/ program/ reverb value/ pan/ mode.(Press the DATA button to switch).
With a 2500mAh built-in rechargeable lithium battery, which can be charged by micro USB interface.
Comes with a USB cable and a 3.5mm to MIDI cable for convenient usage. 
Product Description:
miniEngine Pro is a portable audio source which can power the keyboard.  It looks very cool, small, and exquisite.   It has a built-in 128 of the latest high-quality GM sounds.  Quick effect features include Volume, Tone, Reverb, Panning, and Vibrato (can be adjusted optionally).  The sound module supports USB and MIDI interface to connect to MIDI keyboard simultaneously.  It has a maximum of 64 polyphony output, and supports 24/bit/48KHz high-quality output.  The USB host can provide USB 5V 500mA current output, and it can also function as a mobile phone emergency charger
The OLED display is at 128*64 resolution, and it also features 3 preset buttons (A, B, and C) which you can switch/preset at any time.   Multiple interfaces can meet your requirements – headphone connection, MIDI IN, USB HOST interface, and CHARGE interface.
Specifications:
Color: white
Sounds: 128
Complex tones: 64
Jack: headphone jack/ MIDI IN/ USB Host/ micro USB
Power Supply: Built-in 2500mAh lithium battery or DC 5V micro USB(≥500MA)
Display: OLED matrix display
Item Size: 8 * 10.7 * 2cm 
Item Weight: 190g
Package Size: 18 * 13 * 4.5cm 
Package Weight: 320g 
No customer reviews for the moment.