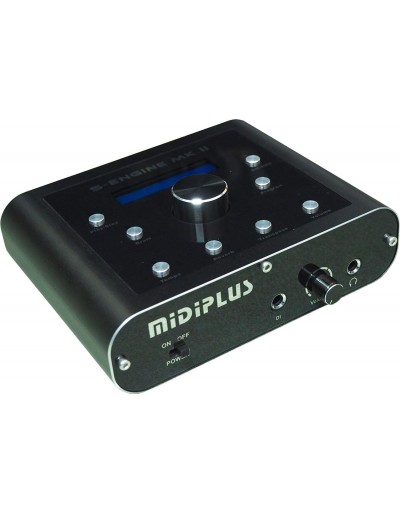  
MIDIPLUS S-Engine MKII Professional Sound Module and Drum Computer
Product Features
8030 EMU sound module with 64 EMU sounds and 64 GM sounds, a total of 128 sounds

Drum computer/metronome with 100 drum patterns

16-times multitimbral

     

128-voices polyphon

   

64 high class piano and vintage synthesizer sounds from E-MU, such as grand pianos,        electric pianos, B3s, clavinets, and some more amazing synthesizer lead and bass sounds.

LCD display

LED display

HI-Z guitar-input TRS jack 6.3mm

PLAY/STOP button, Program buttons…8 function buttons

HI-Z instrument preamps

MIDI I/O

LINE OUT TRS jack 6.35 mm

Headphone output TRS jack 6.35mm
Product Description
The MIDIPLUS S-Engine MKII is a comprehensive sound module complete with all musical instruments and numerous drum patterns.  It offers a General MIDI Soundset and an additional E-MU piano & vintage keys soundset. You can choose directly between 64 GM Sounds and 64 E-MU sounds such as grand pianos, electric pianos, B3, clavinets, and much more keyboard and synthesizer sounds. The sounds can be easily chosen by the main knob and the big display shows you everything you need to know.


Connect the S-Engine MKII to a master keyboard or a computer to access hundreds of sounds which you can also use for GM file playback from a computer or sequencer.  If you are a guitar player, you can use the Direct Input to connect your guitar, and practice songs and riffs by using the S-Engine MKII drum patterns as a drum computer.
Technical Specifications of the S-Engine MKII
● Easy to use with keyboards, master keyboards, or computer with MIDI.
● Adjustable headphone out 32Ω, 65mW, 20Hz- 20kHz, thd 0.1%
● Line Out, 10kΩ, 1V, 20Hz- 20kHz, thd 0.01%
● Direct Input for guitar/bass 10kΩ, 20Hz- 20kHz
● Including USB2.0 5V power
● LCD display  
Package Weight and Dimensions:
Length: 22.5 cm
Width: 18 cm
Height: 6.8 cm
Weight: 0.62 kg
What's in the box:  1 unit S-Engine MKII, 1 x Instruction Manual
Seller SKU:  SENGINEMKII
No customer reviews for the moment.